Shadows Beneath the Falling Snow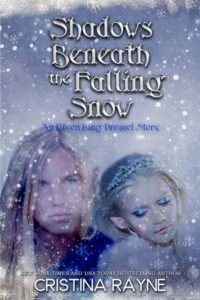 When an unprecedented visit from the Supreme Elven King, Kirion, disrupts elven princess Miriel?s usual plans during the winter solstice, it?s the least of her worries when a single touch by the powerful king could reveal a secret she and her family have desperately kept for over a hundred years. However, King Kirion has a few revelations of his own that could also change Miriel?s life forever?
Book 1 ? The Reluctant Alpha: Born to be Alpha, Cameron Sinclair walks away from his birthright and Pack. Book 2 ? The Alpha Decides: Cameron Sinclair, multi-billionaire businessman,?is now the Alpha Wolf, a position he never wanted.?Just when he thinks that the Pack is safe, another threat rears its ugly head. A threat far worse than the one he?s dealt with, and one that could destroy not only his Pack, but the white She-Wolf.
Dawn Russell is determined to get revenge on the vampires who killed her father. Darkly handsome Malachi Jameson feels the same way, even though he?s a vampire himself. The problem? His idea of revenge is quite different from Dawn?s. She?s thinking wooden stakes driven through hearts Rambo style, while Malachi?s more about turning tables by bringing Dawn over to the dark side.
The year is 1512. Shapeshifter Xander Wulf believes that to kill a Lightbearer is to inherit her magic. If only he can find one? But when he finds Sabine Flemming, for the first time he suspects killing her isn?t how he can gain her magic. He just needs to eliminate James Bennett, King of the Lightbearers?who wants to mate with Sabine?so he can prove his new theory.
Lyric Carmichael is a shifter in trouble. When a pack of rogue wolves attacks her, she knows she will have to fight for her life. Being a member of the Iron Wolves MC and a wolf shifter, she?s used to fighting, but with the odds stacked against her, she?s not sure she?ll make it out alive…